The Best of C-MAP in an App
Superior Charts. Premium Planning
The Best of C-MAP in an App
Superior Charts. Premium Planning

The Best of C-MAP in an App
Superior Charts. Premium Planning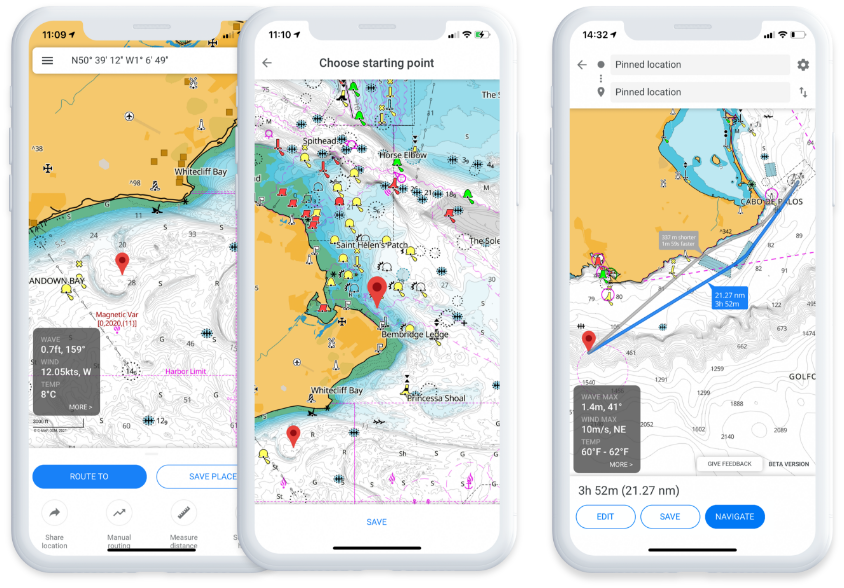 Planning and Navigation Made Simple
With the C-MAP App always have the latest most detailed chart data to hand, on your phone, tablet or PC; personalise your experience with the chart layers that you need – view your charts, your way. Planning routes has never been easier, save your favourite destinations or fishing spots in the App, check the weather, and when it's time to go, create your route or let Autorouting do it for you.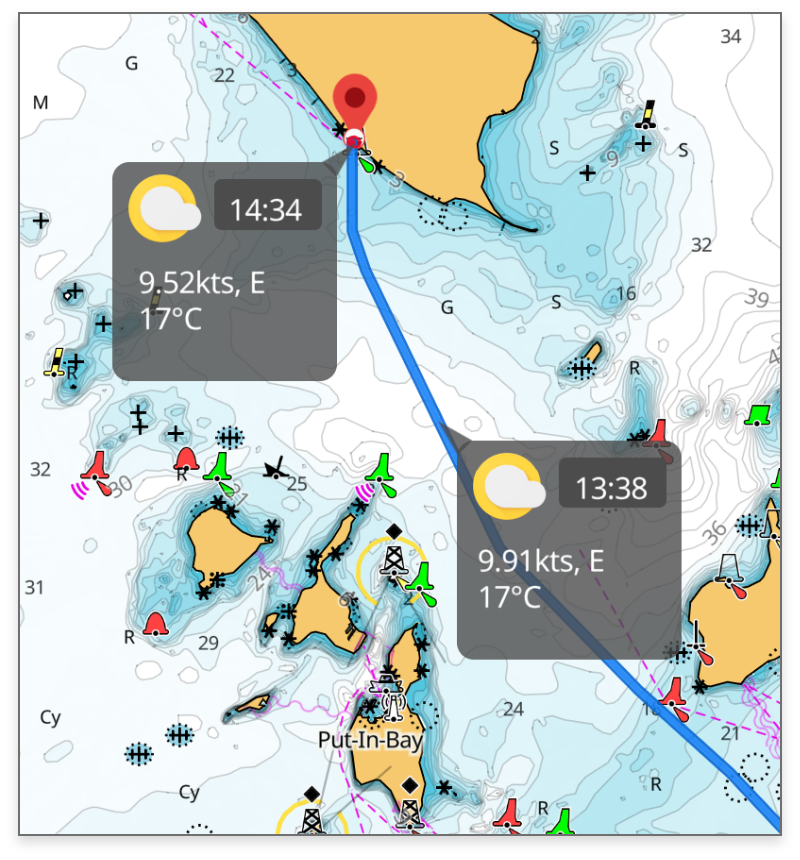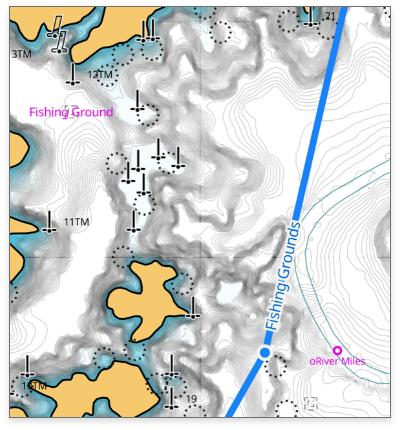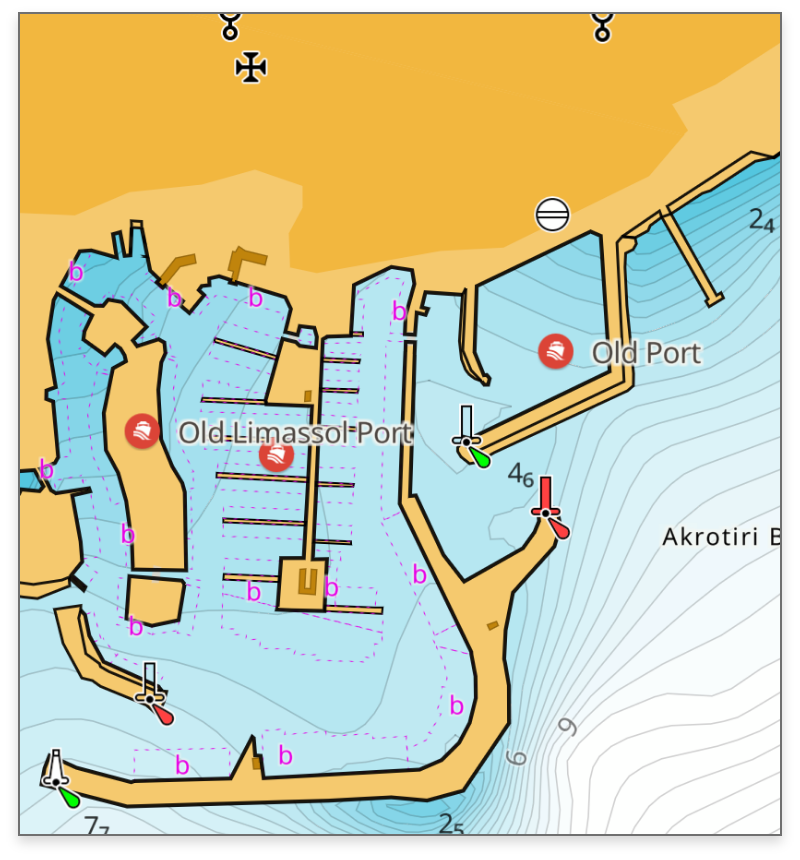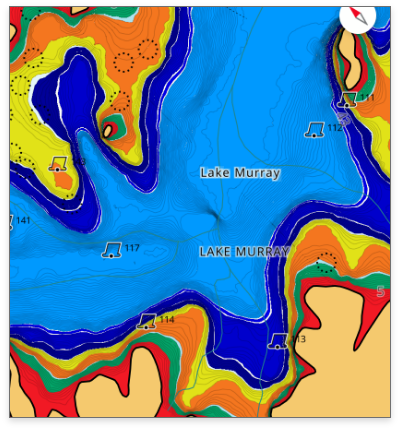 Your Charts, Your Way
C-MAP charts maintain accuracy while staying free from clutter. Customise your charts for the perfect fit. Turn on the features you love, select your unit of measurement, change the map type to suit and make use of the extensive Points of Interest pre-loaded or add your own.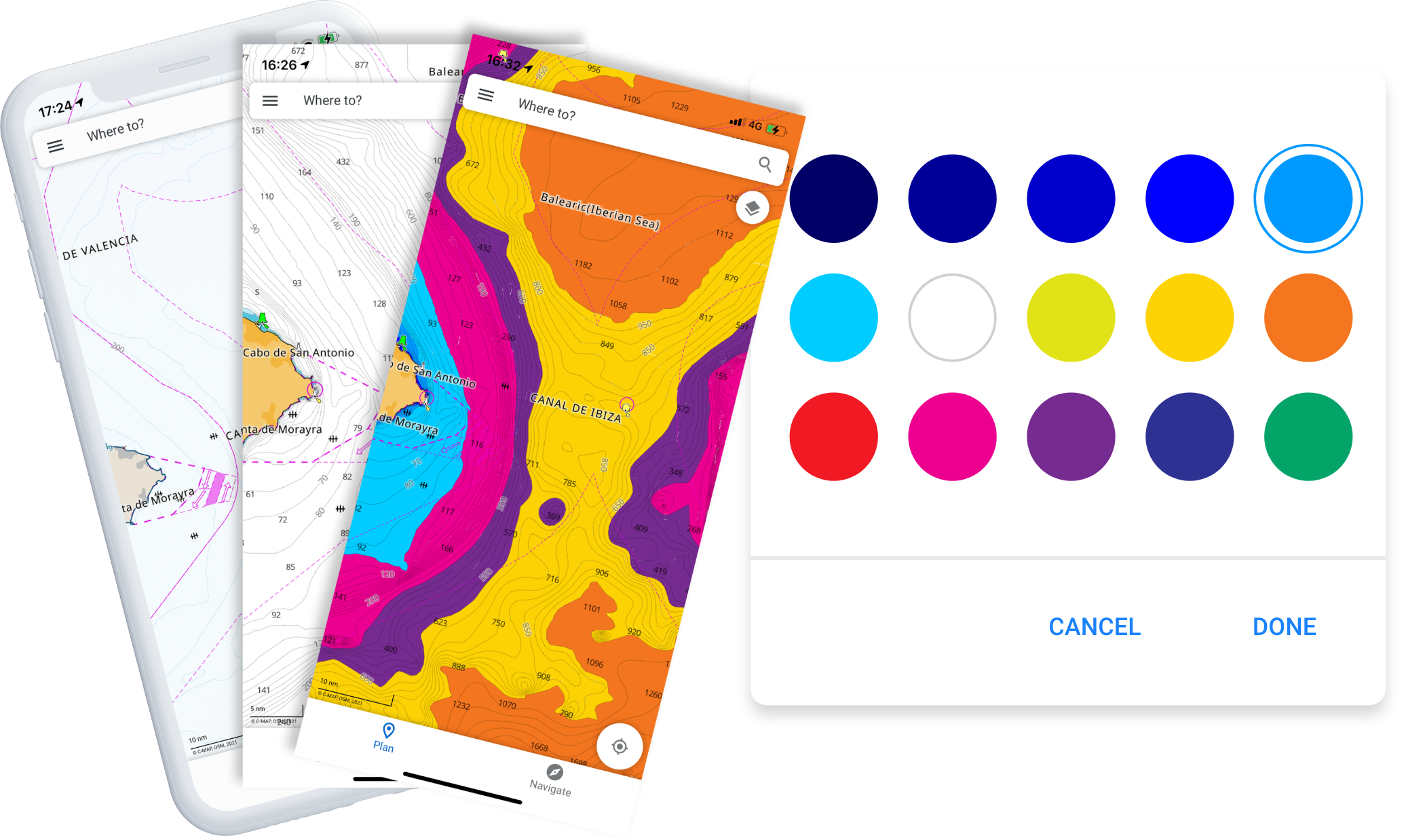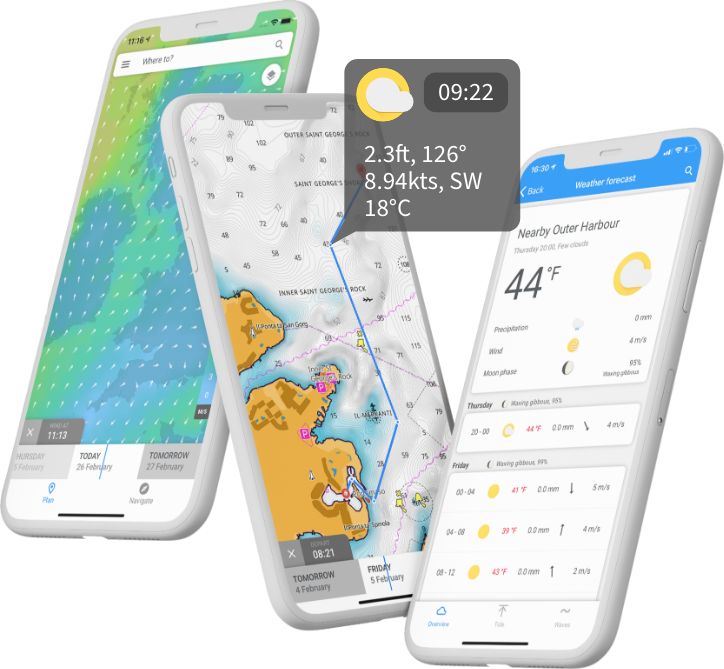 Weather
Plan your trips and stay safe on the water with our high accuracy weather features. You can check the weather forecast, with air and water temperature, wind and wave data, precipitation, tides, moon phase and more. You can also plan with Autorouting and check the weather along this route for the next 5 days. You can even view weather data overlaid on the chart.
Routes, Tracks & Waypoints
Make the most of your time on the water by planning your Routes in advance – you'll be ready to go in no time! Tracks show a "breadcrumb trail" so you can repeat a route or share with friends. Save your favourite places with personal Waypoints; choose the icon, edit the coordinates, even add a photo and some notes.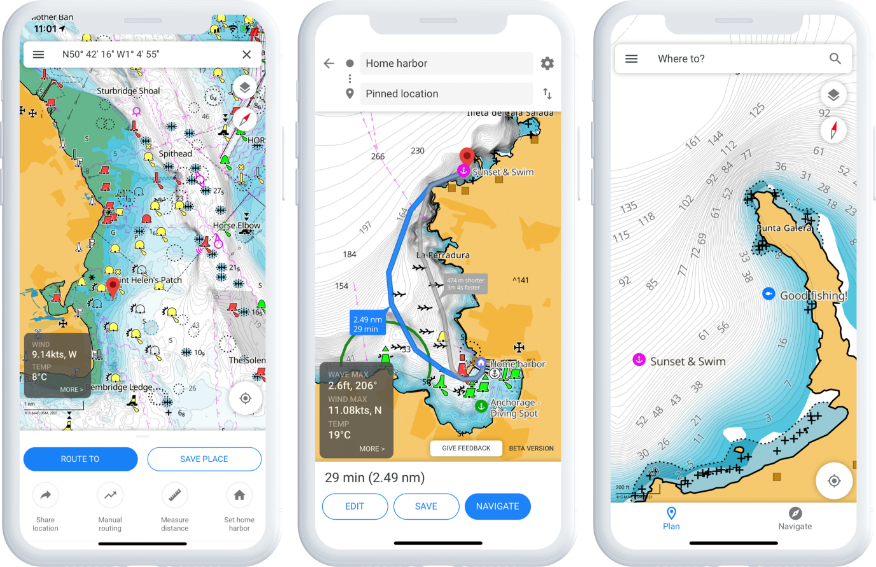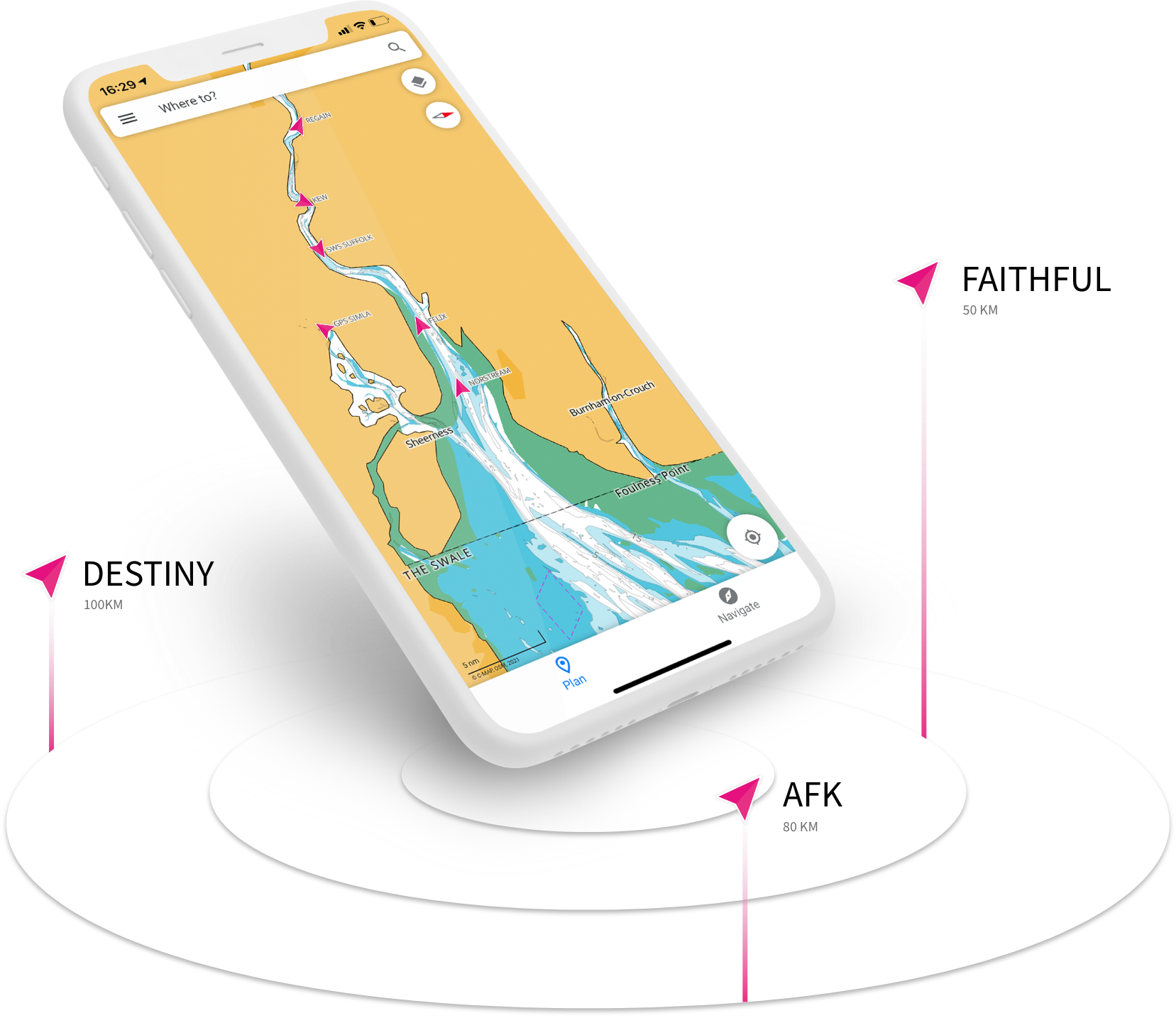 C-MAP Traffic & AIS
Stay safe on the water by increasing your situational awareness. See all boats with Class A and B enabled AIS within a 100km radius of your current position. View their position, speed and course. In high-traffic areas or in low visibility, AIS can help to keep you informed and safe on the water. With C-MAP Traffic you can keep track of friends and see the locations of fellow App-users.
Autorouting
Simply select a location or one of your saved Places to get a suggested route and ETA. You can even plan in advance from your computer and sync to your Tablet or Mobile.
Points of Interest
Explore marinas, harbors, beaches and more. Includes information such as VHF channels, number of berths in a marina, draft and length, amenities, and even photos and reviews from other users.

High Resolution Bathymetry
Helps you identify shallows, drop-offs, ledges, holes or humps through contour lines accurate down to a 1-ft level of detail.

Custom Depth Shading
Set a clear safety depth to make navigation safer, to create a paper chart-like view or set your own custom view and see things your way.
GPX Import & Export
Easily import GPX files into your App – perfect if you have Routes, Tracks or Waypoints saved outside of the App, or if a friend wants to share a route. You can also export the same way.
Anchoring Alert
Use your GPS position through your Mobile or Tablet to set an Anchoring Alert. Be notified if your anchor starts to drag away from your set anchoring point. * coming soon
Some features only available to Premium Subscribers
FREE
View The Latest Nautical Charts
Manual And Autorouting
Add Personal Routes & Record Tracks
Add Personal Waypoints
GPX Import & Export
Thousands Of Points Of Interest
Marine Weather Forecast
Weather Along the Route (24 Hours)
Chart Personalisation
Measure Distance Tool
NEW: Sharing Tracks
NEW: Personalised Push Notifications
PREMIUM

EVERYTHING IN FREE, PLUS:

GPS Position & Full Navigation
Unlimited Offline Maps (Global)
5-Day Weather Along the Route
5-Day Weather Overlay
High Resolution Bathymetry
Custom Depth Shading
AIS
C-MAP Traffic: View other App users

Shaded Relief

NEW: Anchoring Alert
NEW: Satellite Overlay
FREE
View The Latest Nautical Charts
Manual And Autorouting
Add Personal Routes & Record Tracks
Add Personal Waypoints
GPX Import & Export
Thousands Of Points Of Interest
Marine Weather Forecast
Weather Along the Route (24 Hours)
Chart Personalisation
Measure Distance Tool
NEW: Sharing Tracks
NEW: Personalised Push Notifications
PREMIUM

EVERYTHING IN FREE, PLUS:

GPS Position & Full Navigation
Unlimited Offline Maps (Global)
5-Day Weather Along the Route
5-Day Weather Overlay
High Resolution Bathymetry
Custom Depth Shading
AIS
C-MAP Traffic: View other App users
NEW: Anchoring Alert
NEW: Satellite Overlay
Welcome to the C-MAP® App
How to use Weather Along the Route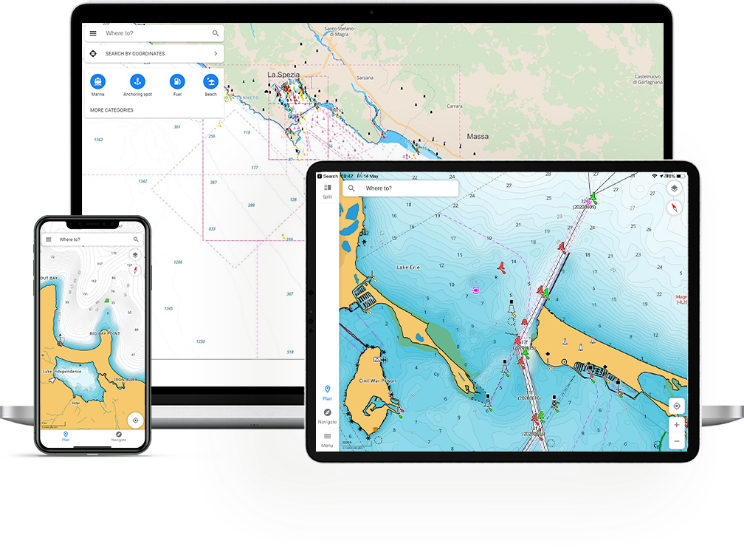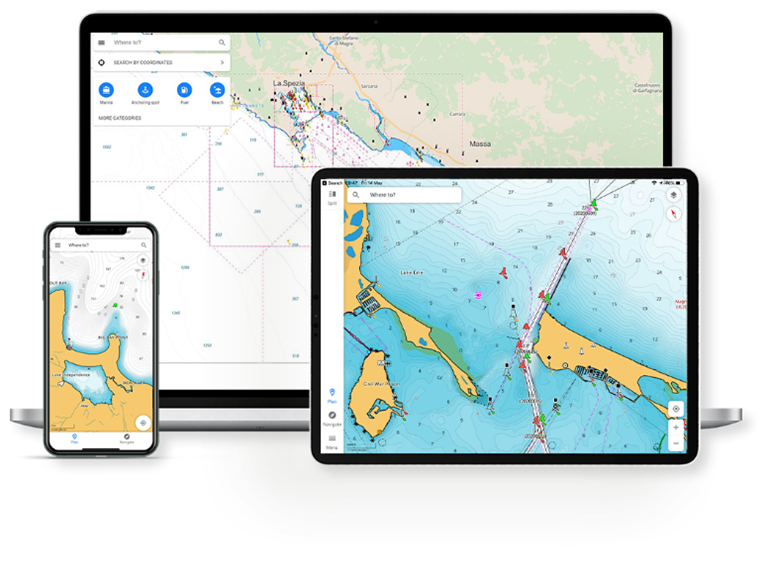 Reviews from Google Play store. Edited for brevity. Rating correct at 15.05.2021