Latest Update For Popular C-MAP® Navigation App Includes Host Of New Features
Viareggio, Italy – C-MAP®, a leader in digital marine cartography and cloud-based mapping, launched a range of key updates for free and premium subscribers of its C-MAP app this month, for both iOS and Android. The updates provide even more features to one of the most highly rated marine navigation apps in the marketplace including satellite view capability, weather overlay, track sharing, personalised notifications, and the new anchor alert safety feature.
The C-MAP app now offers satellite overlay view for premium subscribers, enhancing situational awareness with the option to choose between full view or land-only. In addition, users can select the transparency level of the layer.
Another popular update for boaters and water-lovers is the weather overlay on the charts which includes such data as wind, gust, precipitation, air temperature and pressure. During route planning, users can see what weather is predicted at a specific time and location during the route, opting for the weather overlay both from main charts or during route creation.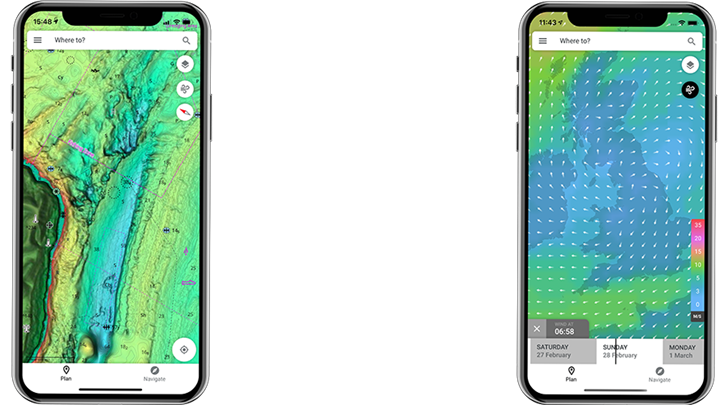 "Adding satellite view option and the weather overlay makes C-MAP charts even more dynamic within our App for the benefit of route planning and general boating safety," said Max Cecchini, Executive Vice President, C-MAP. "We're also pleased to introduce a host of enhancements that make it easier for C-MAP app users to interact, post and engage with friends as well as introducing Anchor Alert."
When anchoring, premium users can set their location and receive push notifications when the boat is drifting, while they're busy or sleeping on the boat. Using GPS data, a breach of the geofence will result in the sound of alarm.
Other new sharing and engagement capabilities include updates like sharing tracks with friends and followers in other applications (i.e. Facebook, WhatsApp, Text), sending and receiving referral invitations to the C-MAP app and push notifications for key events like weather-related alerts.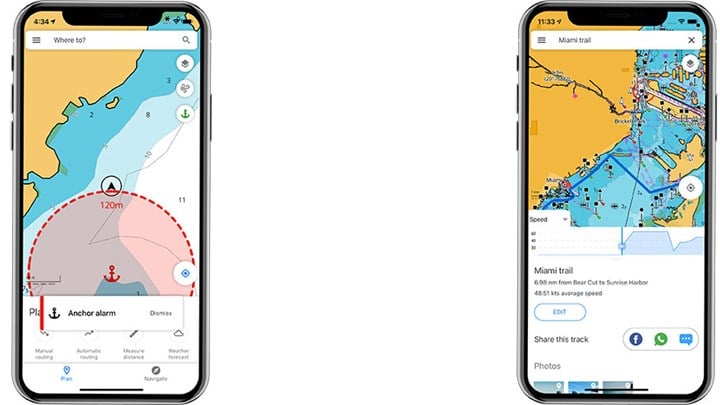 "The C-MAP app notifications are completely customizable by category within your settings so choose only the notifications that you want to receive and are relevant to your boating and on-water experience," added Cecchini.
The C-MAP App is free to download and easy to use, delivering subscription-free access to the latest global charts of the earth's land and sea along with a range of features including personal waypoints, routes and tracks, weather updates, points of interest, planning tools and many ways to personalize. The C-MAP App can function as the complete solution to your nautical planning and on-water navigation needs, or for those using a Chartplotter, it's a great back-up. The C-MAP charts are carefully optimized for the App, highlighting the most important data and maintaining accuracy with a clean, uncluttered view.
Plan your route from your computer, tablet or smartphone, and the data will sync across all devices. Then when you're out on the water, save your favorite places to drop anchor or fish and follow the same safe passage every time with the breadcrumb trail that shows up in your personalized map. Plus check out thousands of points of interest included in the maps like marinas, harbors, beaches, and fuel.
UPDATES FOR ALL USERS
NEW: Personalised Notifications (by category)
NEW: Sharing Tracks
NEW: Referral & Invitation Capabilities
PREMIUM UPDATES

NEW: Satellite Overlay View
NEW: Weather Overlay
NEW: Anchoring Alert
UPDATES FOR ALL USERS
NEW: Personalised Notifications (by category)
NEW: Sharing Tracks
NEW: Referral & Invitation Capabilities
PREMIUM UPDATES

NEW: Satellite Overlay View
NEW: Weather Overlay
NEW: Anchoring Alert