Navigational Newbies
C-MAP® offers an excellent way for novice boaters to safely discover their new favourite waterways.
New to Boating? We've Got an App For That…
Article By: Kevin Koenig
Some years ago, during a work trip to Stockholm, I was unexpectedly given the task of driving a 40-foot Swedish-built motoryacht by myself about 20 miles from the heart of the chic Sodermalm neighborhood to a relatively remote marina located on a narrow waterway in the woods.
It was about 3pm in late November when I left the dock, which meant it would soon be dark, and, as I would shortly find out, the boat's electronics were out. There was another boat to follow, so I wasn't completely lost, but as I whooshed over that cold, black water at 25 knots, with nothing more than the lead boat's white wake to follow, I was never so keenly aware of how important electronics, and in particular navigational electronics, have become to the boating experience.
One of the side-effects the marine industry has seen to the COVID pandemic is a rapid increase in new boaters. Those looking to socially distance on the water will soon understand just what I mean by the importance of navigational equipment. And while some old salts will still swear by their paper charts – which I would always recommend knowing how to read and keeping onboard as a backup – electronic navigation equipment is all but a must for today's yachtsman. Bear in mind, there are few things that make a new boater feel more lost than a poor understanding of electronics, and few things more comforting on the water than having a solid foundational understanding of what your screens are telling you.
Luckily, marine electronics are only getting easier to use, as well as more powerful. Perhaps one of the best examples of this is the C-MAP App. Free to download, the App can live on your phone, tablet, or computer, and is compatible with popular Navico brands like fishing-focused Lowrance, sailing-focused B&G, and cruising-focused Simrad.
The App offers an incredible range of data about any trip you might take. For example, I am writing this article from my home port in Fairfield County, Connecticut. If I wanted to take my boat to visit friends in Greenport, Long Island, all I would need to do is simply type in my destination. Then, on my screen, I can toggle through boatloads (pun intended!) of information, including the most efficient routes, specific waypoints along the way, weather, sea conditions, and more. The App will even inform you of points of interest on your journey.
What's more, it records your personal history so you can review best practices for how to get to your favorite destinations. All of these functions will become tremendously important to the novice boater as they gather experience and become seasoned and worldly sea captains… or at least something resembling that.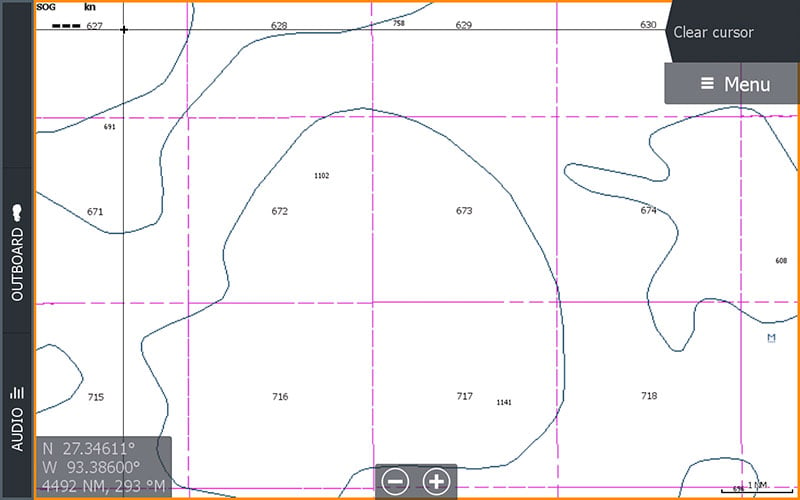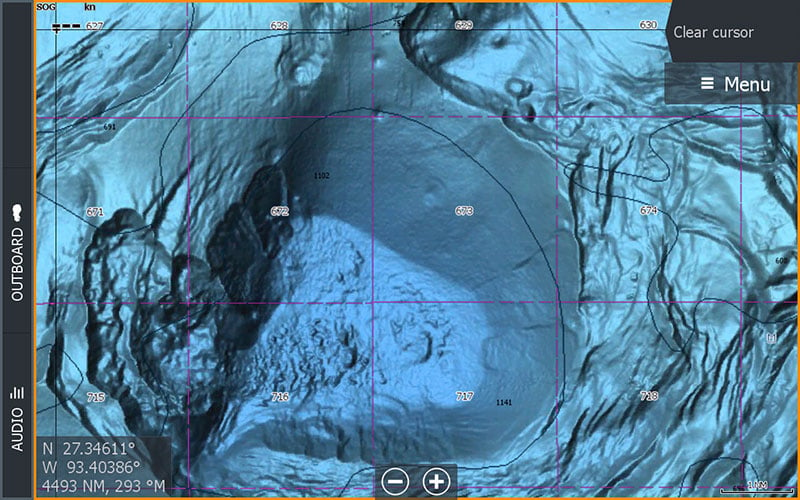 BEFORE & AFTER: C-MAP® REVEAL™ offers game-changing shaded relief, giving those new to boating a lifelike sense of their surroundings.
One of the biggest concerns for boaters of all experience levels is what, exactly, is going on underneath them. Nothing will ruin a captain's day faster than accidentally running aground – it will often be hours before you can dislodge your boat via towing or tidal change, and that's not to mention whether your hull will even be salvageable afterward.
For this, C-MAP has you covered. Bathymetry is the term for the study of the depth of water, and the App comes equipped with a high-resolution bathymetry chart that clearly illustrates natural channels, sandbars, reefs, wrecks and more. You'll never again need to look overboard and simply hope that you are in good water, with C-MAP in your hand, you will know for sure.
And the good grasp on the bathymetry will not only help keep you and your guests safe, it will also almost assuredly help you land some fish. If you're new to fishing, you'll find out quickly that fish love nothing more than structure. Reefs, wrecks, ledges, even submerged branches offer shelter to small fish, which are hunted by bigger fish, and on and on up the food chain until you reach the top gamefish that anglers so highly value.
In the angling world, C-MAP offers greater geographical coverage than its competitors, offering you the greatest variety of fishing holes. In the U.S., fishing data is built off of official United States Hydrographic Office data, which ensures the utmost in accuracy and dependability, and C-MAP has built on to this an impressive portfolio of C-MAP-surveyed waterbodies.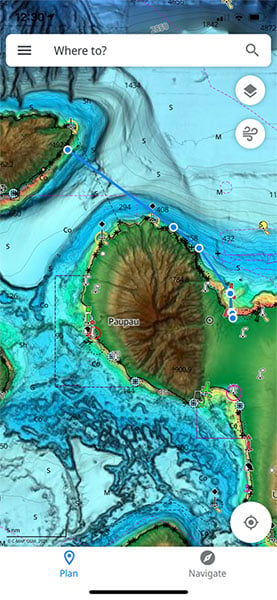 Basic C-MAP charts – Contour+ or DISCOVER™ OnBoard – come free and pre-loaded on Navico-built products in the US. However other options are available for purchase, including DISCOVER™, REVEAL™, and 4D™ (compatible with Furuno, Raymarine® and other manufacturers' Chartplotters).
These upgrades are tailored to how people prefer to do their boating. REVEAL, for example, is geared towards those who do their boating inland on lakes and rivers and offers shaded relief of the bottoms of those bodies of water. DISCOVER offers serious boaters even more in-depth information about coastal bodies of water including detailed harbor information, Genesis user-generated content, and high-resolution bathymetry.
All of this product news is a boon to the newly initiated boater. C-MAP is intuitive and easy enough to use for the biggest newbie yachtsman and the most dedicated technophobe among us, but it's also advanced enough to evolve with us as we become experts in yachting, sailing, angling, and general maritime activities.
When using C-MAP on my own phone, tooling about on the placid (and well lit) waterway of the Long Island Sound, I often think back to that intrepid evening I spent navigating the Stockholm Archipelago simply by eyeballing it. Had I had C-MAP back then the trip itself would have been incredibly easy – almost run of the mill. Would it have taken some of the adventure out of it?
Yes, probably. But boating is an adventure in and of its own right, especially when you're just starting out. And with a tool like C-MAP in your possession, you can enjoy yourself on the water to the utmost without ever worrying about what's happening beneath your hull. Coming from an app that's initially free to download; that's priceless.